Radiant Barrier Sheathing: Energy-Efficient and Durable for Your Home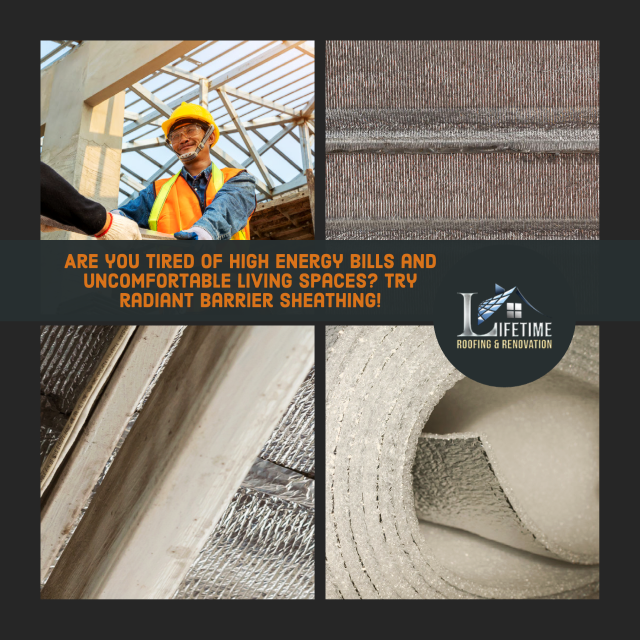 Cool Down Your Building and Your Energy Bills: The Benefits and Expertise of Radiant Barrier Sheathing from Lifetime Roofing & Renovation
Radiant barrier sheathing is a specialized type of insulation that is installed on the exterior of a building to reflect heat away from the structure. This can help to reduce the amount of heat that is transferred into the building, which can result in lower energy costs and a more comfortable living environment. Radiant barrier sheathing is particularly effective in hot climates, where it can help to keep the interior of a home cool and comfortable.
When it comes to radiant barrier sheathing installation, there's no better choice than Lifetime Roofing & Renovation. We are experts in this field and have extensive experience working with this innovative product. Our team of skilled contractors is trained to properly install radiant barrier sheathing to ensure that it performs at its best and provides maximum benefits to your home.
Stay Cool and Save Energy
Radiant barrier sheathing is the smart choice for any homeowner looking to improve their home's energy efficiency. This innovative technology works by reflecting heat away from your home, keeping your living spaces cool and comfortable even during the hottest months of the year. In addition to providing a more comfortable living environment, radiant barrier sheathing also helps reduce your energy bills, making it a cost-effective solution for any homeowner. Upgrade your home with radiant barrier sheathing and enjoy the benefits of a cooler, more comfortable living space without breaking the bank. Trust us to deliver the best in radiant barrier sheathing and energy-efficient home upgrades.
Expert Installation
At Lifetime Roofing & Renovation, we believe in delivering the best to our clients, and that starts with the materials we use and the techniques we employ. Our team of experts is knowledgeable and experienced in the proper installation of radiant barrier sheathing, ensuring that it performs at its highest potential and provides maximum benefits to your home. With us, you can rest assured that you are getting the best service and results for your investment. Trust Lifetime Roofing & Renovation for all your radiant barrier sheathing needs.
Other Roofing and Renovation Services
In addition to offering radiant barrier sheathing, we are a full-service roofing and renovation company, providing a range of services to help transform your home or business. From minor repairs and maintenance to complete roof replacements, we have the expertise and experience to handle any project, big or small. We are committed to delivering exceptional customer service and outstanding results for our clients, ensuring that your home is protected, comfortable, and beautiful for years to come. Trust us to handle all your roofing and renovation needs.
Why Choose Lifetime Roofing & Renovation
So why choose Lifetime Roofing & Renovation for your radiant barrier sheathing needs? Simply put, we are the best choice because of our expertise, experience, and commitment to customer satisfaction. We take pride in the quality of our work and strive to exceed our clients' expectations on every job.
In addition to our professionalism and attention to detail, we also offer competitive pricing and free quotes to all of our clients. We believe that everyone should have access to top-quality roofing and renovation services, regardless of their budget. That's why we work hard to provide the best value for your money.
We are fully licensed and insured, so you can trust that your project is in good hands with us. Our team is dedicated to delivering the best possible service and ensuring that your home's roof is in the best possible condition.